Firm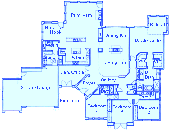 Steven R. Savino Architect was established in 1995 and is a full service architectural firm providing designs for residential, commercial, industrial and manufacturing uses. The firm works closely with the client to fulfill their design and functional needs while keeping the client's budget in mind.
Since its inception, we have provided highly creative design consulting with problem solving skills to meet the client's needs in many areas such as: interior design, space planning, site design and project development. Our goal is to provide the client with the most proficient means of analyzing there needs and developing the space to provide for a creative solution that meets the clients design criteria. While design and the optimum use of the space is important and our main goal, we also provide a proficient and high quality set of construction documents which graphically expresses the design to the general contractor.
Steven R. Savino is dedicated to providing his
clients with the finest and proficient service while providing simple solutions to complex problems using creativity and elegance without sacrificing the design and functional aspect of the project.